Performance & Options
Licensing the iQ Platform gives you full control of your social ecosystem. Unlike existing social networks, iQ provides you on-site performance data, user information, monetization opportunities, metrics and insights.
The iQ Platform is intended to provide features and functions that bring your audience together. You have the power to customize how your content and messages are delivered to your audience – therefore strengthening your brand.
Built on a scalable architecture using proven open-source technologies, the iQ platform scales horizontally, vertically, is near infinite and highly elastic in nature. This means you can start small and adjust your community experience based on user responsiveness and activity. Conversely, you can start scaling globally to open your community to millions of users in geographically dispersed locations. The iQ Platform is open and extensible, supporting many social standards and can also connect with legacy systems.
With our Amazon AWS partnership, we can effectively and efficiently manage the critical operations of your enterprise site. Or, the platform can be deployed on premise to run behind your firewall on a local area network.
Smartphone & Tablet Ready
The iQ Platform was designed from the ground up to work beautifully on smart phones and tablets. We know you're not tied to your desk. No worries. You'll have full access to your contacts, instant messaging, stream and blogs everywhere you go!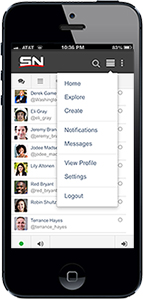 iPhone 4, iPhone 4S, iPhone 5,
iPhone 5S, iPad2, iPad Mini, iPad Air
Google Nexus 5, Google Nexus 7,
Samsung Galaxy 4S, HTC One
Nokia Lumia, Windows Phone 8
Surface 2, Dell Venue, HP Omni 10